With year round beautiful, sunny skies, pristine beaches, natural wonders, and excellent nightlife, it's no wonder why celebrities love vacationing in the Bahamas! It is modern yet secluded; charming and full of character. This Caribbean destination is not only a beloved vacation destination of famous stars but A-listers also love to celebrate their birthdays in the relaxing and rejuvenating environment of the Bahamas. Some of the celebrities love it so much that they even own homes in the private islands located here!
1. Kylie Jenner's 19th Birthday in the Bahamas
Popular American model and socialite Kylie Jenner came to the Turks and Caicos Island in the Bahamas with her closest of friends and sister Kendall Jenner on her 19th Birthday for some sun, sea, sand, and fun. She took advantage of the many perfect opportunities, the beautiful backdrop and shimmering tropical turquoise waters provided, to click beautiful pictures of her birthday celebration and posted to Instagram with the comment - "Thanks for all the birthday wishes. Best birthday yet."
2. Justin Bieber's 20th Birthday Celebration
Canadian singer Justin Bieber splashed tens of thousands of dollars to celebrate his 20th birthday with his close friends and family in a secluded beach on the Caribbean island of Eleuthera. His Bahamas birthday party included cruising on boat, picnic on the beach and lots of fun on water & sand.
3. Tiny Harris' 41st Birthday in the Bahamas
American singer-songwriter Tiny Harris celebrated her 41st birthday with her girl besty's Bahamian style. Harris along with her girly group including "RHOA" star Kandi Burruss, R&B singer Tamar Braxton and her frend Shekinah Jo had full fun in the sun on a tropical island of the Bahamas.
4. Kandi Burruss' 40th Birthday in the Bahamas
Kandi Burruss had her epic 40th birthday celebration in the Bahamas, and she wasn't alone! Her big birthday trip included her friend Monyetta Shaw and Toya Wright, husband Todd and her other reality TV friends along with their spouses, kids, and personal assistants! They enjoyed the trip with plenty of water, beach and clubbing activities.
5. Will Packer's 40th Birthday Celebration on the Island of Nassau
Atlanta-based filmmaker Will Packer with hit movies such as "Think Like A Man," "Ride Along" and more celebrated his big 4-0 in Nassau, Bahamas. His birthday party was celebrated in epic fashion as he was joined by his fiancé Heather Hayslett, and nearly 200 of his family and friends.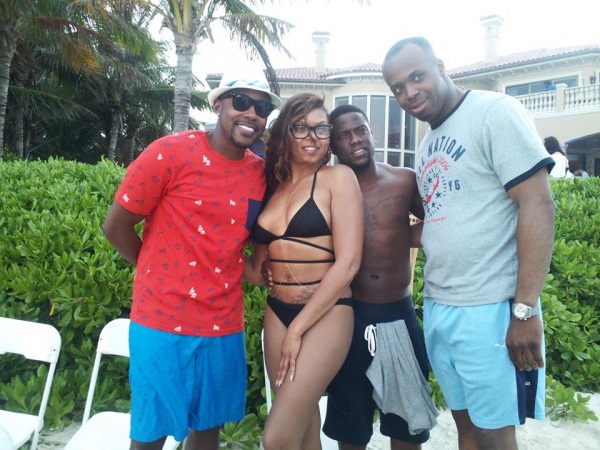 This isn't a trend that is limited to the rich and famous. Each year 100's of thousands make the Bahamas their favorite hang-out spot. So, if you have your birthday coming up, why not spend it with us in the Bahamas? Your own private birthday party boat in the Bahamas, cruising the warm waters, with great food and drinks on board, and so much to see and do – you'll have the ultimate celebration of your life with Yachts Bahama Charters. Because it's always BETTER in the Bahamas!